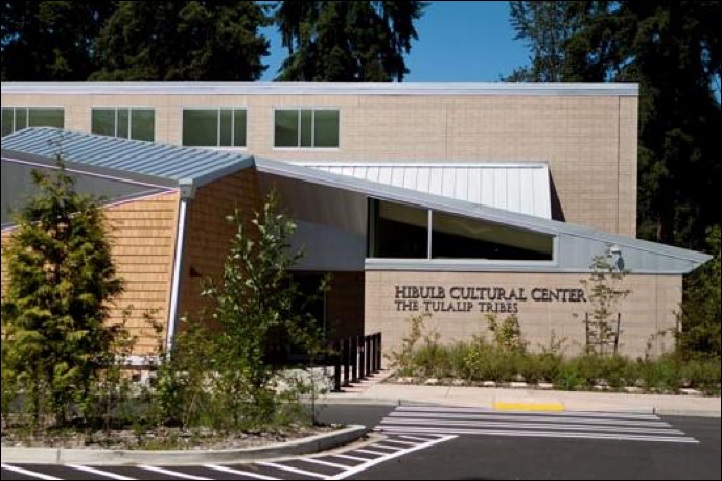 The Tulalip Tribes, a federally recognized Indian tribe located on the Tulalip Reservation north of Everett and the Snohomish River, and west of Marysville in Washington, are the successors in interest to the Snohomish, Snoqualmie, and Skykomish Tribes and other tribes and bands who are a signatory to the Treaty of Point Elliott. Funding from gaming has enabled the Tulalip Tribes to build the Hibulb Cultural Center and Natural History Preserve.
The Hibulb Cultural Center's mission is to revive, restore, protect, interpret, collect and enhance the history, traditional cultural values and spiritual beliefs of the Tulalip Tribes. For the Tulalip, the plan to develop a place to celebrate culture began sometime after their removal from their homelands in 1855. For the first hundred and thirty-three years, the Tribes struggled to survive and maintain their language and traditional cultural ways. In their hearts the Tulalip Tribes remembered who they were; they saved their memories and the spirit of their culture and dreamed of a time when they could begin teaching and speaking their language and displaying their history for the next generations. This they have accomplished through the Hibulb Cultural Center and Natural History Preserve and the programs instituted there.
Today, tribes have resources made possible through gaming revenue to develop special places of community fellowship to educate and perpetuate their language and cultural ways. Gaming revenue has made a cultural revival possible throughout Indian Country with the emergence of tribal cultural centers, museums, and special gatherings. Gaming revenue has also allowed tribes to seek the return of their ancestors, funerary objects, cultural patrimony and sacred items from museums and collections throughout the United States as well as internationally.
The Indian Gaming Regulatory Act created the National Indian Gaming Commission to support tribal self-sufficiency and the integrity of Indian gaming. The NIGC has developed four initiatives to support its mission including (1) To protect against anything that amounts to gamesmanship on the backs of tribes; (2) To stay ahead of the Technology Curve; (3) Rural outreach; and (4) To maintain a strong workforce within NIGC and with its tribal regulatory partners. NIGC oversees the efficient regulation of 506 gaming establishments operated by 246 tribes across 29 states. The Commission's dedication to compliance with the Indian Gaming Regulatory Act ensures the integrity of the growing $32.4 billion Indian gaming industry. To learn more, visit www.nigc.gov and follow us on Facebook and Twitter.