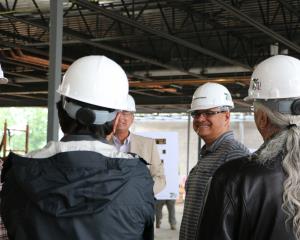 SOUTH BEND, Ind. – Tribal gaming revenue has enabled the Pokagon Band of Potawatomi to take great strides in economic development as well as invest in invaluable cultural revitalization programs (see Community Impact: Keeping with tradition: Revitalization of culture and traditions). The Tribe's investment in improving lives and increasing opportunities, however, is not limited to their own community. They have also reached out to their neighbors in the surrounding area, engaging with local governments to develop numerous multifaceted projects and programs aimed at improving the livelihoods of the entire community. In 2016, the Tribe entered into two voluntary agreements with the City of South Bend to collaborate on numerous municipal improvement projects, community programs and poverty reduction services in the coming years including expanding the city's sewer and water system to a nearby Tribal Village and Four Winds Casino development, restoring a local creek, replacing and upgrading the Calvert Street Lift Station, contributing funding the YMCA Women's Shelter, Boys and Girls Club, The Memorial Children's Hospital and much more.
"These are historic agreements for the City of South Bend with the region's original inhabitants that will infuse millions of dollars into the economy and create hundreds of new jobs," said Mayor Pete Buttigieg. "It is extraordinary to reach an agreement that will not only support the economy, but also provide much needed funding for community projects, local organizations and our schools. I would like to thank Chairman Warren, the Pokagon Tribal Council, and the Pokagon Gaming Authority Board of Directors for this generous agreement."
For more information, please read their press release: Pokagon Band of Potawatomi Indians and the City of South Bend Announce Two Intergovernmental Agreements.
And visit their website: http://www.pokagonband-nsn.gov/
The Indian Gaming Regulatory Act created the National Indian Gaming Commission to support tribal self-sufficiency and the integrity of Indian gaming. The NIGC has developed four initiatives to support its mission including (1) To protect against anything that amounts to gamesmanship on the backs of tribes; (2) To stay ahead of the Technology Curve; (3) Rural outreach; and (4) To maintain a strong workforce within NIGC and with its tribal regulatory partners. NIGC oversees the efficient regulation of 499 gaming establishments operated by 244 tribes across 28 states. The Commission's dedication to compliance with the Indian Gaming Regulatory Act ensures the integrity of the growing $31.2 billion Indian gaming industry. To learn more, visit www.nigc.gov and follow us on Facebook and Twitter.