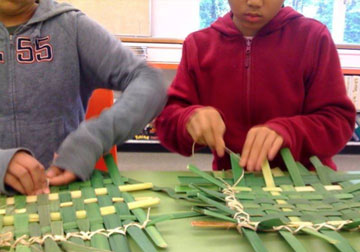 DOWAGIAC, Mich. – At the core of the Pokagon Band of Potawatomi culture, its people have relied on their Seven Grandfather teachings: wisdom, love, respect, bravery, honesty, humility, and truth. These values have helped lead the Pokagon Band in its pursuit of economic development, healthcare and the revitalization of its culture. With the aid of tribal gaming revenue funds, the Pokagon Band has been able to provide its citizens with vital services and programs.
In 2014, the Pokagon Band, with the aid of its gaming revenue, opened an integrated health care facility. In a statement, Pokagon Chairman John P. Warren said, "the completion of the Pokagon Health Center is a historic milestone for the Pokagon Band as we are now able to deliver high quality healthcare services to our citizens."
The Pokagon Band has also focused on program funding for the revitalization of its culture and traditions. Workshops provide a wealth of cultural knowledge including creating bone needles and basswood fiber cordage, quilt making, and stitching moccasins. The continuation of these cultural workshops helps to ensure that the Pokagon Band of Potawatomi history and traditions are not lost.
---
The National Indian Gaming Commission is an independent federal regulatory agency, with the primary mission to work within the framework created by the Indian Gaming Regulatory Act for the regulation of gaming activities conducted by tribes on Indian lands. The Commission works to maintain the integrity of the Indian gaming industry; promote tribal economic development, self-sufficiency and strong tribal governments; and to ensure that tribes are the primary beneficiaries of their gaming.