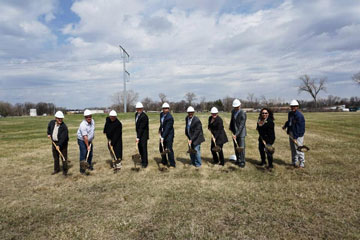 BLACK RIVER FALLS, Wis. – Community centers enhance the quality of life for people of all ages, backgrounds and abilities by giving them access to affordable facilities and programs that bring families and neighbors together. The Ho-Chunk Nation is dedicated to fostering this strong community kinship. With revenues from its gaming operations, the nation has been able to build centers and offices for tribal community members. In the past year, the Ho-Chunk Nation held two ground breaking ceremonies, one for the Georgianna "Siga" Violet Whitewing-Funmaker Community Center and another for the Madison Branch Office, a mix use government office and community center. These new community buildings provide tribal members a location to gather, promoting community engagement, and allowing for the youth and elders to foster relationships to embrace cultures and traditions.
"Gaming has provided huge opportunities for our nation, giving us resources to help develop the infrastructure and programming necessary to increase our citizens' quality of living and to address many of the disparities we see between our population and the population at large in areas such as education, health and employment," stated Henning Garvin, Ho-Chunk Nation District 2 Representative
The Ho-Chunk Nation is not only dedicated to its citizens, but the nation is also committed to supporting its surrounding local communities. The Ho-Chunk Nation has donated its gaming revenue funds to numerous organizations and entities including local fire and rescue centers, local school districts, youth programs and public libraries.
The nation has recognized that its citizens are part of the greater surrounding community and benefit from numerous public resources.
"Gaming has also given us the ability to make direct donations and have major impacts by supporting initiatives that benefit the public health and well-being of all of our neighboring communities and to give back in appreciation for what we feel is a truly mutually beneficial relationship," said Garvin.