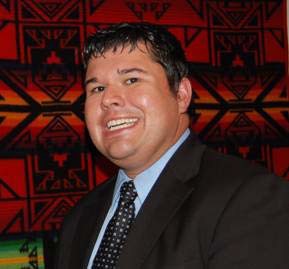 For Immediate Release
Contact: Shawn Pensoneau
(202) 632-7003
NIGC Welcomes New Chief of Staff
Washington, DC August 9, 2010 — Today National Indian Gaming Commission (NIGC or Commission) Chairwoman Tracie Stevens announced the selection of Paxton Myers as the Commission's Chief of Staff. For the past year, Mr. Myers served as Congressman Dale Kildee's Native American affairs advisor.
Congressman Dale Kildee is co-founder and Chairman of the House Native American Caucus. As the Congressman's Native American advisor, Myers played a key role in advising and educating Members of Congress by coordinating briefings and preparing background information on legislation and issues affecting Native American communities.
NIGC Chairwoman Stevens said, "Paxton brings a diverse and practical background with him to the NIGC. His experience on Capitol Hill coupled with his previous tribal government and gaming operations work will greatly benefit the NIGC. We look forward to Paxton joining the Commission and welcome him to the team."
Between 2000 and 2009, Myers worked for both a tribal government and a tribal gaming operation, which included serving as Chief of Staff to Michell Hicks, Principal Chief of the Eastern Band of Cherokee Indians as well as Casino Marketing Manager at the Band's gaming facility.
Myers is an enrolled member of the Eastern Band of Cherokee Indians of North Carolina. He received his bachelor of science from Western Carolina University and currently resides in Washington, DC.
###
The NIGC is an independent regulatory agency established within the Department of the Interior pursuant to the Indian Gaming Regulatory Act of 1988.
Download the PDF here.